(Jan 3, 2002)
..if you can do it in NY you can - and should - do it anywhere. Two years after gliding onto the stage to greet US talk-show supremo Dave Letterman (see earlier EVUK report ) Kevin Spacey is again 'plugging' his beloved Zappy e-scooter - this time on the Conan O'Brien (very) Late Night Show (NBC). Here's a (very) verbatim transcript:
Spacey: ...and I even promised her that if she came to New York with me I would teach her how to ride my Zappy scooter in Central Park..
Conan: Describe the Zappy scooter for me 'cos actually people on our show have seen you on the Zappy scooter...
Spacey: Apparently I almost ran over somebody on your show on my Zappy....
Conan: Someone was like stepping off a kerb and then suddenly - like Zzzzzz! - stepped back and they looked and they said " It's Kevin Spacey on an electrified scooter...I thought : you've got to stop drinking you know! It's clearly a...(..interrupted)
Spacey: Well - the thing about the Zappy is it's electric so you don't hear it coming...it's actually like a skateboard with handlebars...you stand on it...it's not like a Vespa.
So I took Judi to Central Park...I taught...well...I started to teach her in the hallway of the hotel that I was staying at and she crashed into the wall. And I told her everybody does that. I did it myself. And then I took her out into Central Park and about 10 times I had to run with her to hold her up - because I also didn't tell her that this particular Zappy was the one I'd had turbo'ed. It actually goes about 24 miles an hour* as opposed to the 12 it normally would go.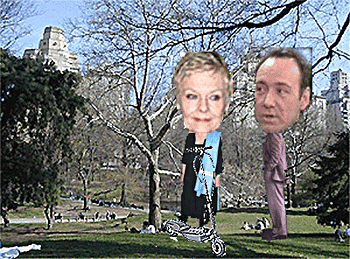 But she was determined to get on it and at one point we were walking back to the hotel and she finally said, " I want to try it again" and she got on the Zappy and I let go...and there she was zooming down Central Park West - this is one of the great dames of the American theatre...the British theatre...as she passed this group of tourists they suddenly recognised her and she was - y'know - Vvrrrrr! - and they said,

"Don't you have something to do with James Bond?" And she said,

"Yes I'm his boss !!"

Conan: ...and took off!

*Note - to find out how to add spicey Spacey-turbo to your electric scooter - go to Yahoo e-scooter forum