b) if the temperature levels increase. Cycling 20-80C is less stress than from 60-120C though the temperature swing is the same.

An increase by 25C upwards will halve the lifetime of any given semiconductor.

It can be concluded that lower temperature levels are always fine so that's the reason for me to keep the liquid cooling system.
Additionally, the Brusa will tolerate larger currents than the rated current as long as the winding temperature is not exceeding 150C.
You can see what happens? I'll get the few extra Nm without getting into thermal trouble.

So what?
The machine can drive and accelerate the car, there is no thermal problem, and the TV is not a problem. But could I store enough energy to get the 300km/charge?

More long days of surfing, searching, calculating go by.....

So my E-Loremo dream is complete:
27kW electric machine instead of ICE, proper inverter as an "off the shelf" component, Li-Tecs or Kokams, depending on the price.
This leaves me with one choice that is not jet decided:

When my Golf-Battery is dead and needs replacement in a few years would I go for the Loremo and convert it or would I rather spend the money upgrading the Golf to Li-Ion? I think this depends on how pregnant my wife is by then.(Ed: so E-Loremo fate is in your....hands?)
After all a Golf - yes, even an electric one - is a fine family car.(Ed: and so far you are a "fine family", right?)
---

Forum - to find all recent & archived electric Loremo threads: first register/log in, then Search Forum on keywords:
E-Loremo EV

August, 2007
EVUK Q&A: Lightning Cars & 'Lightning Rod'



Born to be Wilde ...

- We're in regular correspondence with US EV guru, engineer, and electric drag-race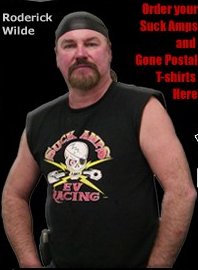 aficionado Roderick Wilde of Suckamps and EV Parts - and some of you may recall that in earlier EVUK articles, for reasons that may become clear later(read on!) - we have always taken the precaution of disguising Rod's true identity with the tailor-made alias "Lightning Rod" - see for example our Jan 2006 article "Cryptic News with Clues Breaks January Blues" for Rod's most recent little lightning bolt-from-the-blue...

Rod has spent many years in EV (drag-) racing in the States and has also been involved in US EV TV productions for the Discovery Channel (watch Gone Postal videos)
He's also uniquely qualified to be refreshingly blunt and direct with his comments and didn't disappoint when we asked him for his reaction to Lightning Car's ultra-bullish June press release - firing back the characteristically robust salvo below.
And naturally we couldn't resist, in the end, sending a slightly toned-down version to Lightning Car's Arthur Wolstenholme for comment ...

...and so here, as promised, is Mr. Wilde's thunderous little 'Lightning Blitz' (surge protection recommended!):

Rod W: There is something really bothering me about this car with the specs that are claimed. There is no car on the planet with over 700 horsepower and over 2132 foot pounds of torque that can possibly be this slow. Lightning claim for instance that:
"Each HPD40 drive unit offers maximum torque of 750 Nm (533 lb-ft)"
- and they run four of these motors. By comparison, the Saleen S7 has about the same horsepower and only has 700 foot pounds of torque and does 0 to 60 in 2.8 seconds and it is not light at a portly 1338 kg, almost 3000 pounds. The only car I can think of that is almost this slow is the Porsche Carrera GT which has about one fourth the torque and only a measly 612 HP and it can still turn a 0 to 60 in 3.6 seconds. It must take a lot of brilliant British engineers to come up with a way to squander so much torque and horsepower and not get it delivered to the road."

Rod rams home his final point:

"Show me the actual test results. I do not want to see press releases from a marketing department. If you can show me actual test track results I will apologize profusely. This is a very simple and logical request understood pretty much globally. This is not some off the wall request - just please show me some test results. The problem you will find is that there aren't any. No one has built and tested a functional prototype. If you want to believe press releases in your country then join the thousands of people in our country that do as well."

And here's Arthur Wolstenholme's sporting response:

Arthur W: In typical British fashion, we believe in erring on the side of caution rather than over promising at this early stage of the electric Lightning's development. The performance figures referred to are best estimates following close collaboration with our technology partners and demonstrate our intent for the car. Once the prototype has been completed, tested and validated we will be pleased to share actual performance figures."
He continues:
It is an important point to note that we are working to achieve a credible and usable combination of acceleration, top speed, range and safety in the production version of the electric Lightning - not just the quickest 0-60 time.

The other three points that we(EVUK) put to Arthur Wolstenholme were a little less.. incendiary..than Rod Wilde's:
(Q&A cont'd)

EVUK: Our first question concerns AltairNano Li-ion batteries. Many reports (eg. see Edmunds Inside Line - usually a reliable source) have stated that you(quote) :
"..have teamed up with U.S. company Altairnano to develop a new battery that it says uses "advanced novel ceramic nanomaterials" instead of toxic chemicals ..."

So do you in fact, as many reports have implied, not intend using the exact same Nanosafe cells that are being used for example by Phoenix Motorcars in its much publicised rapid-charge electric SUT's and SUV's? Have you indeed "teamed" up with Altairnano to (quote) "develop a new battery" ?

Arthur W: Please be careful about what you read in reports - we are not developing a new battery with Altairnano. We have selected their NanoSafe battery as our proposed power source. I cannot confirm the exact technology Phoenix are using, however they are also using Altairnano product.(Ed: yes - they are both using the same cells)

EVUK: We're always meticulously "careful", cautious and inEVitably sceptical about what we read in reports - which is of course precisely why we(and, from what we can tell, we alone ) - are now questioning those many identical reports that stated that you had "teamed up with U.S. company Altairnano to develop a new battery..." !

EVUK: Our next question concerns the Lightning Sport's sale price: just what do you say to all of those who are raising eyebrows at that $295,000 sale-price? Probably the most frequently-heard and understandable reaction boils down to something like this :

"I could buy three Tesla Roadsters with that kind of money !"
How do you respond to that ?

Arthur W: Two of the technologies we are using on the Lightning are the next generation battery and motor technology. The initial cost of this technology is the main reason for the high vehicle price. The Lightning also employs F1 racing technology derived chassis and carbon fibre/kevlar bodywork and is a full size GT car. The wide price range of traditionally powered sportscars can be seen in a similar way, the exception in this case is the exciting technology, leading to exceptional performance, now being employed in the Lightning GT.

EVUK: Our final question relates to in-wheel motors. (See PML's July press release "Hi-Pa Drive Chosen to drive Lightning")
EV developers still seem divided over whether the technology is dependable even now - weight, balance - and ultimately safety concerns - still linger.
Mitsubishi, who are arguably further along the road than anyone else when it comes to real-world in-wheel-motor testing, have said that the MIEV i will not after all use wheel motors. And whilst the specifications and performance of PML's motors certainly look impressive, have you ever actually seen their technology being track-tested and proven under real-world conditions and verifiably delivering on its performance promise? Even if only on a rolling test-bed of some description? In other words, can you say what ultimately has persuaded you that PML's motors can and will deliver on the company's stunning performance claims ?

Arthur W: We chose PML for the motors for our car because of their outstanding performance and advanced technology* that is well suited to our high performance sports car. These motors will likely exceed our expectations of performance and reliability.

*********

*Note: Arthur W's last response (highlighted) of course neatly sidesteps our - and Rod Wilde's - key $64k question re: real-world proof-of-performance, independent testing etc - so we put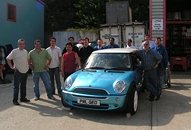 the same questions to PML Flightlink(MINI QED) who will be supplying the wheel motors for the Lightning Sport.
So here is the email we sent to PML Director Martin Boughtwood(a summary of his telephoned response follows...) :
EVUK: We're currently talking to Arthur Wolstenholme about posting up a Q&A piece re : Lightning Cars. We have been following PML Flightlink developments for around four years(ie. since well before the MINI QED) Our principle question is almost inevitable at this point and is being echoed at almost fever pitch throughout the EV community, EV blogosphere and in the mainstream automotive world : we're referring of course to the conspicuously moot point - the key, multi-million dollar question - as to whether the PML Mini QED and in particular the Hi-Pa drive system, have yet been independently tested, performance specs verified etc- on the track and out on the open road?
And on the same "proof/independent test" theme : does PML have any video clips at all of the Mini QED being track or road tested(to its limits)? Or simply in motion at any speed(we can find nothing..) ?
The BBC (watch video) reporter Paul Clifton comments that the BBC have been "promised" a test-drive "later this summer" and Channel Four also used that word "promise" - "promises 640 bhp"- in its 2006 MINI QED report.
Given that ZAP too are basing their press releases and (almost)incredible top speed(155 mph) performance and range(350 miles) claims for the ZAP-X (Lotus APX)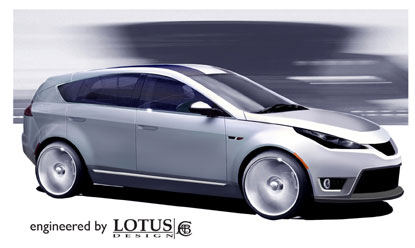 on the performance promised by PML electric drives we know we are now far from alone in thinking that it must surely be time to let the world - and especially sceptical journalists - see what the Mini QED, for example, really can do in the real world. There is so much at stake here - so many roads now seem to be leading back to PML Flightlink's electric drives and to yet-to-be proven(and video'd ?) performance claims.
Also: your business strategy or philosophy seem to be very different for example to that of AC Propulsion who developed the TZero battery and drivetrain solution from which the Tesla Roadster's powertrain is derived(though few seem to be aware of that fact!) : AC Propulsion spent around eight years very publicly testing and racing(and video'ing) the li-ion and lead-acid Tzero's as they took on and easily outpaced Porsches, Ferraris etc and frequently proving its 300 mile range & acceleration(0-60 in 3.7) to journalists and others again and again out on the open road in the US. Tesla have adopted a similar approach - eg. Schwarzenegger, Goodwood and video clips galore...
So - is there any possibility that this might soon happen with respect to the Mini QED and the Hi-Pa drive? Not least in order to silence the sceptics who - believe me - would all love to be persuaded in the same way that we(and Tesla and Venturi etc) were convinced by real-world independently witnessed and video'd evidence of the Tzero's fantastic performance and range ?
We put all of the above points to PML Flightlink's MD Martin Boughtwood and in a lengthy telephoned response he told us that the company hopes to have something test-able out on the track by August(we are - or were- invited) - but assures us that within the next 6-9 months we will definitely be able to visit PML and see a functioning prototype in action. So we will hopefully have good reason to visit Fareham very soon - video camera in hand of course...
Now we wonder if we could bring a certain "Mr. Wilde" along for the ride - incognito perhaps?!
July (5th), 2007
Duran Duran in Tesla Roadster at Live Earth?
- Pure fantasy - or what??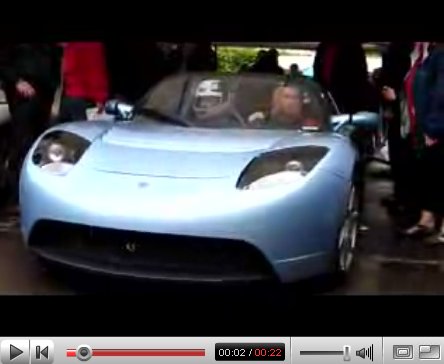 If they can get a Tesla to Goodwood FOS - why not to Wembley and Live Earth? Click image for Goodwood Tesla clip

When we read a few weeks ago that the Tesla would be on show at the Goodwood Festival of Speed we instantly and naturally thought,
"Hey - if Tesla and Lotus can get a driveable vehicle out to a UK Festival of Speed - then surely they could turn it out for the world's biggest ever, billion-plus-viewer live simulcast Festival of Saving Planet Earth - aka Live Earth !"

Well, after sitting on the idea for a few days we began pitching it to contacts and fellow EV campaigners around the globe - eliciting(most notably perhaps)- a particularly enthusiastic response from Richard Titus, UK producer of Who Killed the Electric Car? - as well as from Blair Golson a manager at Participant Productions, the company that produced Al Gore's film Inconvenient Truth and co-produced Clooney's Syriana & Good Night and Good Luck.

Gore himself of course is the driving force behind the Live Earth concerts and in fact has been visiting Wembley over this last week giving TV/media interviews and generally overseeing proceedings there...

And so here is some of that (EVUK's) Tesla-Duran-Live Earth sales pitch - delivered to all of the above just 4/5 days ago:

"We see that Tesla Roadster took part in the recent Goodwood FOS and wondered if you'd considered getting the car down to Live Earth at Wembley("the biggest charity event in history") - to share top billing and the stage with Duran Duran perhaps?

Picture the darkened Wembley stage - a sudden lightning & smoke flash-effect and the one line "It's Electrifying!" from the original Grease soundtrack exploding from the PA as spotlight picks out Tesla Le Bon et al in/on Tesla rolling into view. We've even written possible one liners Le Bon could ejaculate as they leap out of the Tesla:

"Don't worry Al (Gore) - it's Electric!"

(Yes -we know Mr Gore is well aware of, and a fan of the Tesla - but we're going for the laughter factor here!)

More one-liners for Simon Le Bon et all could be, for instance:
"Do we get to keep the car Mr Gore..Mr President...Sir?!"
"The future has arrived and so have we!!"
"It's one of the fastest cars on the planet - and it's made in Britain and the US...just like us!"
"Hello Wembley etc...!"

Obviously it would be fine (and less of an insurance risk..?) if the car and "passengers" were simply pushed - unseen from the wings - on stage by a couple(a 'herd'..?) of hefty roadies to avoid any Richard Hammond-like fiasco.

Come on guys, it's British, it's patriotic, it's at the new Wembley, it's a Lotus, it's a US-UK "coalition" effort - so the BBC would surely give it the green light(sorry - can't stop pitching!). This is surely written in the stars - and for the stars ...
(end of EVUK's original 'sales' pitch)

Anyway, to cut a long(-ish) story short: we(EVUK) eventually contacted John Lamb(Group Lotus PR, UK) and Tesla Motors' Marketing VP Director Darryl Siry in the States - and he seemed mightily impressed by our ripping go-for-it sales pitch and style: "That is possibly one of the most interesting pitches I have ever heard !"

"Yes! Yes! Cut to the chase!" we hear you all cry. "Did you pull it off? Is it going to happen? Duran Duran's Big Stage Entrance in/on the Tesla Roadster?"

Well, sadly... not ! After another 72 hours or so of hectic transatlantic emails and phone calls, Darryl Siry (Tesla) finally(June 4th), and after much deliberation, came back to us with the decision to pass on the idea - citing a number of reasons...reasons which we feel it would be inappropriate for us to disclose or discuss here(sorry!).

Suffice to say, perhaps, that there is very good reason to believe that if we'd begun 'selling' and pitching this 'Tesla/Duran at Live Earth' idea a week or two earlier, EV fantasy could have turned to EV reality at Wembley on 7/7/07...

And of course if Live Earth had been Schwarzenegger's baby rather than Al Gore's - well - we'll leave that to your imagination....

*********


Post-Event Newsflash: BBC's Ross, Norton & Black Eyed Peas plug Tesla, EV's at Wembley(!) Hats off to Graham Norton and Jonathan Ross for (twice) skilfully steering electric cars into the Wembley studio for live fill-in chat-breaks during the BBC's startlingly good round-the-clock(and globe) Live Earth broadcast.

But a massive high-five must go out to Black Eyed Peas' founding member
Will.i.am(sic) for delivering the following chatty, expletive-free gem at around 14.30 UK time on 7/7/07 - sadly not during their superb stage performance(click image to watch - and more importantly hear - "Help Us Out" - a Youtube must-see...lyrics here), but beforehand, in the panoramic Wembley studio with Jonathan Ross:

Jonathan Ross : ...a lot of rap and hip-hop artists like driving around in huge cars like the Hummer.... do you think that artists like 50 cent for instance would ever think about getting small electric cars..?

Will.i.am : I'm getting ready to blow up my Hummer. I have an electric car - a Tesla(*see below)....

Ross : I don't know about blowing up the Hummer - whether that would be very environmentally sound..

Will.i.am : No - we'll crush it instead...

*Note: Tesla's Darryl Siry(see above) has confirmed that Will.I.Am has indeed put down a deposit on a Tesla. Boy - we'd love to get a photo or clip of that Hummer-crushing fest. Maybe you could cut it into your next music/MTV video, Will.i.am..?

And later in the programme Scottish-American actor John Barrowman(don't mention Tom Cruise) told Graham Norton that he was: "in the market for an electric car".
We're assuming that he too is referring to the Tesla...why else would he imply that he's having to wait to get one?

And finally: regular EVUK'ers will know that the BBC's 'MC' Ross and 'MC' Norton(formerly of Ch4) have not always been as environmentally/politically charged-up and out-of-the-closet as they were on 7/7/07 - see:

"BBC's Jonathan Ross Buys Wrong Car - for the right reasons?"(EVUK, Nov 2005), "Ross/Clooney/Oscar/Tango.."(EVUK, March 2006)
...and
"Graham Norton & Channel 4 - crank 'n' piston prostitution?"(EVUK, May 2002)


*****

See also: EVUK's Color-Blind Rap
July, 2007
July 3 start: SolarTaxi World Tour needs you!

Please interact! (Click here for contact details and
New! click here for video diary )
New! (16 July) We have managed to persuade Marcelo Padin of EMN TV to hook up with Solar Taxi's Louis Palmer - watch You Tube video
New! Berlin TV video - watch crowds turn out to welcome Solartaxi to Berlin.
New! Video(English) - watch Solartaxi set off from Lucerne on 3. July
New! CNN Turkey video
STOP PRESS: Exclusive Solartaxi video clip just in - see second image below !
Note: Germany's 'Time' magazine equivalent Der Spiegel is running a Solartaxi travelogue
(As reported recently and fulsomely - by Germany's highly-rated daily SCi-Tech-Eco TV magazine show "Nano" - click for Google translation of transcript. Nano is broadcast unencrypted Europe-wide via Astra 19 degrees at 17.30 UK time)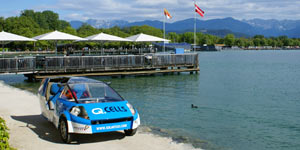 "We don't know where we are going, and we don't know how much time it will take. We only have one intention: Covering at least 50'000 km, 50 countries, 15 months and 5 continents. A world circumnavigation, from West to East. The tour starts and ends in Lucerne, Switzerland.
"When the whole world is talking about global warming, it's time to bring the solutions!" says tour director Louis Palmer. "Where are the inventors, the organizations, the individuals and scientists who care about global warming? We would like to share our ideas with you! Our exact route depends on the invitations that we get!"
Louis Palmer and his dream green team of enlightened adventurers, engineers, academics want us all to get involved in this ambitious project and call him out - taxi-style - to visit and publicise green projects en route or not-so 'en route': a week or so ago EVUK made first contact with Louis - our first two questions, perhaps predictably, were "Will German, Swiss, international media be cutting live to you on Live Earth Day on 07/07/07 at all....and will you be going anywhere near Lake Como and Mr.Clooney's residence...?"
Well, the answer to the first question was, "No, so far no Live Earth link-up has been arranged.." and to the second, "Lake Como - as it happens we do have a base not many miles from Lake Como...it would be fantastic if Clooney could be persuaded to invite us in for a quick test-drive and chat..."
So we obviously had to immediately put a polite shout out to our smattering of contacts in California and on the greener side of Tinsel Town...but - what the hey - since this is all very last-minute and improvised - here's a direct and shameless little megaphone/carpe diem shout-out:
"George, Signor Clooney - if you or your people could possibly spare 15 minutes of your time and you do happen to be in residence in Italy over the next few weeks - would you please consider giving Louis a call?
All he and we would hope for is just one simple photo of yourself at the wheel of the Solartaxi - that's right - just one discreet understated photo of one the world's most widely respected stereotype-shattering philanthropists, (eco-)campaigners and EV early adopters(Tango and Tesla) could take this ambitious project to a whole new audience - and most importantly persuade our ever-reluctant old media to get on board too..."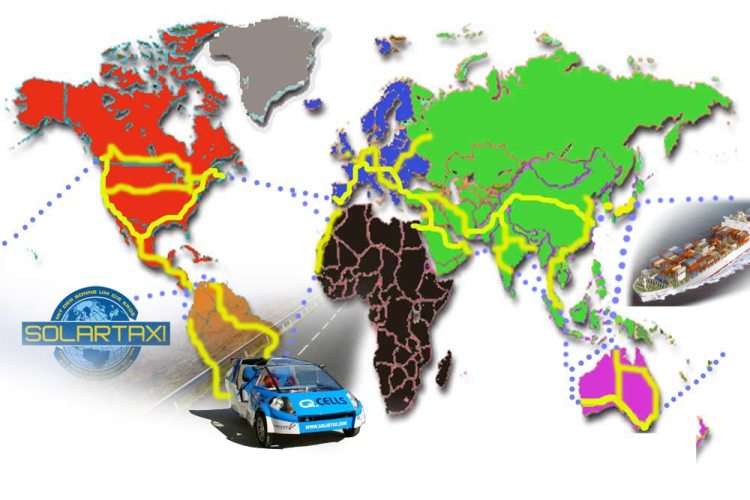 Louis Palmer has sent us this exclusive video file - click image to see stunning scenery...and Solartaxi holding its own against typical traffic around beautiful Lake Lucerne...
From Solartaxi's Mission Statement:
"All our fossil resources are being used and dumped into the atmosphere...we could do it differently: let's use the technology we already have! New jobs, a new quality of life and new perpectives for the future could be found. These solutions are readily available, but they are simply being ignored. The Solartaxi will be visiting pioneers who have the solutions - and present these solutions to the world."
June, 2007
Eco Car World - Yokohama, Japan
- exclusive video report from EVUK's globe-trotting Moira G.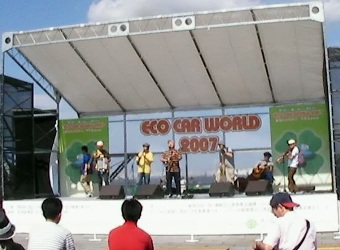 Eco Car World - let the music play
- If you'd told me a few weeks ago we that I'd be posting up a report about an EV event attended by the Japanese Minister of the Environment with exclusive video footage of the Mitsubishi MiEV i, the Subaru R1e, the Eliica, the Ecoron(who, what...?) - I wouldn't have believed you. With no knowledge of Japanese it really is a struggle, even with cyber-translation aids, to get any information about EV events here. I'd been trying for three weeks just to get a response from the Japan EV club - with no success.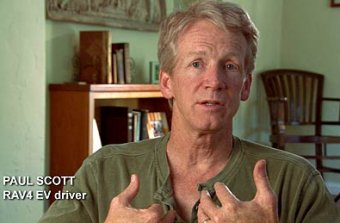 But my luck changed following an email I'd fired off late one night to Paul Scott(left), co-founder of Plug-in America , a long-time EV campaigner, RAV4 EV driver and "Who Killed the Electric Car?" contributor.
"Why not try contacting Eiichi Oogami - he owns a Toyota RAV4 EV" said Paul. "He's a terrific guy."
Paul Scott couldn't have described him better: Eiichi's emails sparkled with enthusiasm and were long, detailed and, yes, in perfect English.
Hallelujah!
Suddenly I didn't feel quite so hopelessly 'lost in translation'.
So when an email from Eiichi titled "Eco Car World this weekend in Yokohama !" landed in my Inbox I was near-ecstatic(no -really!). And just one greased lightning Google blast later I'd found among other things that the Minister of the Environment was going to be delivering a speech at the event at 12pm in Yokohama and discovered later he was also given a test drive in the li-ion Eliica.
Blowing a kiss to Eiichi and Paul Scott and unable to believe my luck - I grabbed my guide-book, map and most importantly my new video camera and headed for Aka Renga Soko, Yokohama. Two hours later(Tokyo is big!) I arrived at my destination stopping only to watch a Japanese gospel choir sing "It's gonna be a lovely day!" Yep - my words exactly.


Click image for Japanese Gospel Choir - filmed by devout EVUK EVangelist Moira G..!
I spent a good two hours or so walking around filming the EV's on display, soaking up the clean atmosphere and the electrifying tranquillity. It had been such a long time since I'd actually seen any real EV's close up so it was like getting re-aquainted with old friends.
So enjoy all twenty five(at last count!) video clips, excuse my hyper-excitable commentary(I'm a dedicated unpaid unprofessional !), forgive my faltering attempts to make myself understood in English to these incredibly talented engineers - and wince at my occasional shrieks of joy for having at last found the elusive (test-)Ride and Drive Area.
Eco Car World - the complete & exclusive video clip collection :
Hello from Eco Car World - EVUK's Moira G. between Subaru R1e and MiEV :

Moira squeezes into Elecspeed - and EVent / Yokohama skyline filmed from pier(with stench of boat diesel everywhere!) :



MiEV in action at the Ride and Drive, Eco Car World, Yokohama :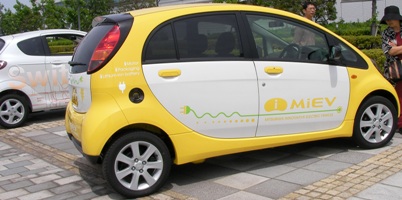 Subaru R1e with more Moira G. commentary re range, availability etc:


Extended video clip of MiEV and me shrieking with unprofessional glee ! :

Come ride with me - in the MiEV :

Short clip of MiEV at Ride and Drive :

MiEV (photo only):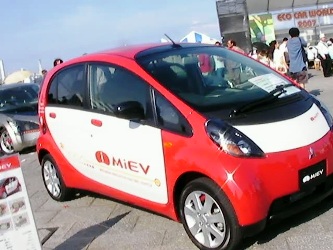 You can buy this 4-door 120 km/charge li-ion Ecoron EV now in Japan! :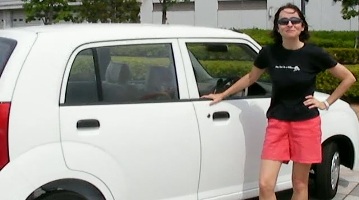 Eliica - on display only(video) :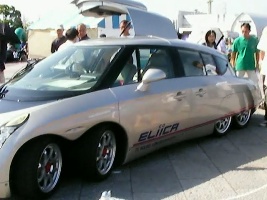 Professor Shimizu's(see Eliica) pocket-sized 130 km charge li-ion 2-seater Luciole EV - on display only :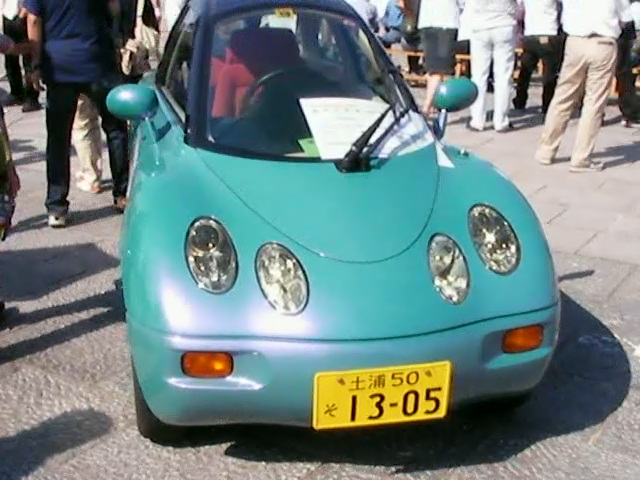 ....and again :


Full MiEV specifications - in Japanese ! :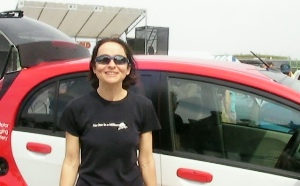 "MiEV in Europe - when ?" - I ask Yasufumi Sekine - Assistant Manager, Environment and Recycling Affairs Department:

When will MiEV be for sale anywhere? I ask Mitsubishi engineer Yoshiaki Sano :

Poppping question about in-wheel motors for now not-so-innovative MiEV :

...and again !:

Hybrid Ecology Truck - a beautiful lorry with a lorra in solar panels! :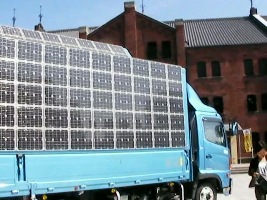 Honda FCX in action :

Eco Car World - a musical, open-fresh-air panorama :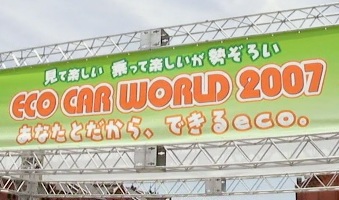 *****
Now for some sobering post-event perspective - a reality check or two :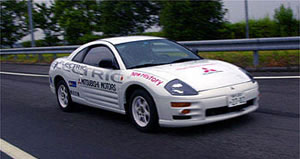 - In 1999 - eight long years ago- Mitsubishi achieved a record-breaking 2,148 km in a lithium-powered FTO saloon(pictured) - world record noted by Guinness Book of Records. See photo-report(there scroll to last page):"New EV Distance World Record".
And six years ago in 2001 a Mitsubishi Eclipse EV was driven more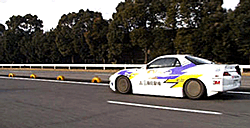 than 400 km on a single charge at Japan's Shikoku EV Rally 2001 - see detailed photo-report. Both of these record-breaking achievements went almost completely unreported in the English-speaking media('old' and 'new') and was covered almost exclusively outside of Japan by..us, EVUK...talk about "conveniently lost in translation" !
So by 2010 it will have taken around 12-13 years to produce and sell the MIEV i - an EV with a range of 130 km. And by 2015 when a 200 km/charge version of the MiEV is slated to go on sale it will have taken 17-18 years. So why has it taken so long? Why the roadblock? It surely cannot be due to technological challenges alone - especially now that in-wheel motors have been temporarily at least taken out of the equation by Mitsubishi....
At Eco Car World a part of me felt like I was in an art gallery - or a museum when even now, in the unimaginable sci-fi year of 2007, we have nothing in showrooms for people to actually buy and drive. And then there's the range. Yes the Subarau R1e benefits from a quick 15 minute recharge and the MiEV i will have 20 minute quick recharge capability at a network of eco stations to be set up at supermarkets etc. Yes - the Toyota RAV4 was launched in 1997 and had/has a range of at least 160 km - yet here I was looking at the MiEV with a range of 130 km and the Subaru R1e with an even lower 80 km! And after trying to find anyone who could speak English it soon became clear these EV's were not going to be even for sale any time soon. Tokyo Electric Power Company want the Subaru R1e now but the car company will not let them get their handa on it until 2009. Other companies will have to wait until 2010 for the privilege. When it will go on sale in Japan is uncertain - maybe 2013 but with a range of possibly 160 km..
It's a similar story with the MiEV i. Not for sale in Japan until 2010- the next model will use better li-ion batteries Mitsubishi will develop with GS Yuasa as previously reported by EVUK(et al) and confirmed to me personally by Mitsubishi spokesmen - but this model won't be out until 2013 - and probably not hit the European market until 2015. Expected range of the 2015 model will be 200 km.
Ah yes, mobile phones, PC's, laptops, Moore's Law and then some - progress is relative all right....especially when it comes to efficient alternatives to the Infernal Combustion Engine.

Price of Ecoron(on sale in Japan now): EV:2,980,000 Yen. The government offers 680,000 Yen to reduce the price to 2,300,00 Yen.
Projected price of MiEV: 2,000,000 Yen - Govt pays 600,000 Yen

One British pound = 200 Japanese Yen approx.

*******

EVUK's 'Ms. Eclectic Electric' - Moira G. - seeks new EV / ecotech / green media- related role!

- Moira is a RADA-trained, classy working class actress with a degree in Languages who has worked in various TV productions over the years incl. Inspector Morse and Heartbeat.
She has also performed in several West End fringe theatre productions - principally at the Tricycle Theatre.
She fills in the acting gaps('Resting"? No way!) by teaching English(TEFL) around the globe and through her spirited and scandalously unpaid(did we mention that already?) contributions to the EVUK website and EV campaign activities.
Oh - she's also a great party-time piano-player(rock,pop,gospel,classical - you name it).
Age: let's just say that in December 2006 Moira was asked for ID when purchasing wine at her local supermarket ie. she looks and acts a whole lot younger than her Morse appearances would suggest...

So - if anyone should feel they could use(and pay for!) M.G.'s eclectic talents and energies in any serious EV/eco-tech/green media-related enterprise - please contact us !



June, 2007
1000+ miles/charge Lithium? Scottish scientist's high hopes for ' O2 Electrodes'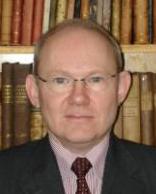 "We propose a step change in rechargable lithium batteries...
The capacity to store energy can be raised by 5-10 times...The proposal addresses a number of the materials issues necessary to realise this radically new high energy storage battery ....".(Professor Peter Bruce - click image for full text)

Admittedly, this is not exactly late-breaking news but if Aberdeen-born Professor Bruce and his team at St. Andrews University(*see footnote) do indeed succeed in achieving even the lower end of their energy storage goals(ie. "5-10 times" current Li-ion capacity of 130 mAh/g ) it could eventually lead to the complete transformation not just of the worldwide automotive sector but of the energy storage(ergo supply & security) landscape as well.

So it does seems a little surprising that this $3 million EPSRC-funded "step-change" research project has yet to raise even the tiniest of blips - as far as we can tell - on the global EV news radar.

It is also worth pointing out that, although this formally funded research is at a very early stage, the idea of using O2 electrodes in lithium batteries is not entirely new - Peter Bruce has himself been informally discussing and investigating the concept for some time. Read the second half of this Nov 2006 MIT Technology Review piece "Making Electric Vehicles Practical" for an insight into the challenges that Professor Bruce and his colleagues will have to tackle.

Earlier this week we asked Peter Bruce if he would care to comment on the issues raised in that MIT Tech Review piece - here's his response :

"Using present approaches, the energy density of rechargeable lithium batteries may only double. It is vital to look for new approaches and directions, and that is what the air electrode offers. This is still at the basic science stage and as a result it is not possible to give definitive one line answers".
He continues:
"According to MIT the theoretical capacity is from 1200 to 1800 mAh/g and we have shown practical capacities of 900 mAh/g so far. More work may or may not improve on this - that is the problem with statements at this stage. Practical for LiCoO2 is 130 mAh/g. So a factor of 7 times has been demonstrated. Stan Whittingham's comment and mine are the same. In my words: The difference between Open Circuit Voltage(OCV) and load is 300-400mV. Reducing the voltage difference will be an important target for future work".

And so, whilst we obviously all rejoice at the May 9 announcement that Argonne Lab

scientists have succeeded in almost doubling Li-ion storage capacity, let's not forget that the best may be yet to come - and it could come from Scotland...
The UK Govt's EPSRC (Engineering and Physical Sciences Research Council) is also funding slightly less exotic - and more widely reported - lithium battery research at Bath University - see "£715,000 Grant Awarded to Help Break Fossil Fuel Dependency"(May '06)
...and it is perhaps worth noting that this UK Govt award came a year after the Scottish Parliament's (Scottish Executive's) Intermediary Technology Institute for Energy announced that it would be investing £5.2 million in EV-related lithium battery research projects - see "ITI Steers 5.2m into Electric Vehicle Projects"(Scotsman, May '05)
Indeed, you may recall EVUK's own deliberately(..and successfully?) provocative May '05 headline announcing that same earlier Scottish intitiative - "Scots Beat English...with New EV Initiative"
...and speaking of Scottish parliaments and Peter Bruce's 'radical' thinking...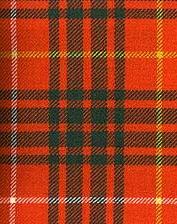 Radical ancestry ? King Robert the Bruce (watch 2007 movie
trailer) helped achieve the 'impossible' - Scottish Independence in 1328. 700 years on, liberation from fossil fuel dependency is one 'impossible' goal of radical thinkers(and do-ers) north of the border. Bruce(Robert !) also held his first parliament in ... St. Andrews(!)
Click here for full details of Peter Bruce' s stellar career in Materials Chemistry.
(*Footnote re: St. Andrews - Scotland's oldest university(map). Our apologies to all rightly rabid Scots for the unspeakable error in our first draft !)
May, 2007
May 14, '07: Tesla on ABC News Nightline (internet-) TV:
'Pain at the Pump - Meet The New Electric Car' - watch video & read transcript.

Possibly the best, most up-close-and-personal report so far - although understandably, for reasons of discretion, no specific reference is made to the collaboration with Lotus.
And of course(far less understandably) AC Propulsion and that all-important Tzero legacy are again conspicuously missing from the conversation...
May, 2007
ZAP's week: CNBC interview, PML link-up, Lotus visit
- and some historical perspective...

click image to watch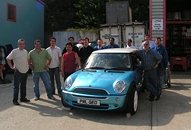 May 2 '07Zap announces second UK link-up - this time with leading UK in-wheel motor specialists PML Flightlink. (Recap: PML's Mini QED(inset) - a superfast, ultra-efficient and compact plug-in-able hybrid. See EVUK report Sept 2006)

May 2 '07 Lotus visit Zap in Santa Rosa California. See photos/report: Duemotori.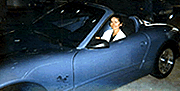 July 21 '98(!)
EVUK's Moira G. heads to California to spend 3 months working for Zap , touring the other sunshine state' s EV hotspots and tracking down Hollywood stars and their electric cars.
O Happy, Zappy Days!
- Back then of course we all believed that a US-led EV revolution was just around the corner - and with good reason...many good reasons: the Toyota RAV4 EV, Honda EV Plus, Nissan Altra, GM EV1 were all on the road and leading the charge, the Mercedes "A" Class EV was set for production in '99, California's ZEV mandate was in full force and the internet - we felt sure - would get the truth out at last to a largely comatose, misinformed public. To top it all, the stereotype-demolishing 4-seater(unlike the GM EV1) Solectria Sunrise sedan(see below) had achieved 373 miles on a single charge in 1996 - just four years after the Rio Earth Summit - and was slated to be mass-produced and sold for around $20,000 before the decade was out.
As it turned out of course, even we underestimated the power of our corporate, political and (therefore) media establishment (aka 'corporatocracy')to pull the plug on all of the above as well as their collective ability to lull the public(and themselves) back into that all-too familiar state of (EV/ZEV) amnesia, apathy and ignorance.
Joining the dots & connecting the news wires :
. In-wheel motors are out: Mitsubishi announced in October last year - disappointingly - that the MIEV "i" car will not after all employ in-wheel motors and that the "i" in MIEV now signifies "innovative" - not "in-wheel"(so "MLIEV" - "less innovative" - would seem more appropriate).
On a happier note, Mitsubishi also announced its plans this week(press release, May 8) to begin production of high capacity large lithium cells by 2009 in a joint venture with GS Yuasa :
"These new batteries have ten times the capacity of those for hybrid electric vehicles, and are the perfect choice for EV's. ".
. Solectria Sunrise(1996) - probably the best electric car never made. It goes without saying of course that the world's media - esp. in Britain and mainland Europe - simply refused to show any interest whatsoever in the Sunrise - despite our own relentless email-blitzing efforts to get the car on the radar here. As a result, around 99.99% (an informed estimate) of the world's population ever-so conveniently have no knowledge or memory at all of this 4-seater, 200 miles/charge, 75 mphmyth-busting EV.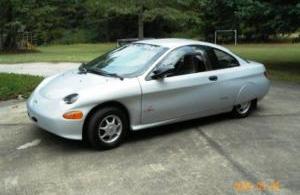 Stephen Taylor's 200 miles/charge lighter lithium Sunrise - click image for Austin EV photos & detail
Read these two illuminating and pithy CREST postings from April 2000 and Sept 2002 - if you're not yet part of that informed and eternally vigilant "0.01%" ...
Naturally many of us did, over the years, repeatedly contact the Solectria Corporation to try to establish why the sun set so sudddenly on the Sunrise - but the company's replies were always politely evasive and firmly focused on future plans in other areas - leading some inevitably to suspect that the company, at some point, had probably been made offers(by GM..?) it couldn't refuse.
Watch rare video clip(Youtube) of Solectria Sunrise in action (..it's the yellow EV featured near the start)
. ...from Lotus-Zap and long-range, sedan-sized EV's to Lotus-Tesla and long-range, sedan-sized Ev's. Tesla have said recently(see for instance CNET & Inside Bay Area reports) that although their own 200 mile-per-charge sports sedan will cost between $50-70,000, a $30,000 family sedan may follow.
Which leads us to offer one final thought:
Tesla ! If you should ever find yourselves needing a name for that affordable($30,000) long-range family-sized sedan, we'd like to suggest the ...
Tesla RICO !
- an aspirational anagram of 'Solectria' and a fitting salute /
(fast-)moving tribute to the Sunrise sedan - an extraordinary EV that promised(..or threatened) to revolutionize the auto industry a decade ago.
April, 2007
Redford's "The Green" eco TV series debuts on Sundance TV.
Watch highlights, download episodes, watch and respond to video blog 'webisodes'...
But will real EV's be a red hot topic - or totally taboo here too ? (Email: thegreen@sundancechannel.com)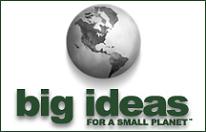 Well, given that Chris Paine's "Who Killed the Electric Car?" was given its world premiere at Redford' s Sundance Film Festival in early 2006, it would seem infinitely more likely that electric and plug-in hybrid vehicles will feature in The Green at some point than, for example, in BBC TV's "It's Not Easy Being Green" - a programme in which, all-too predictably, the concept of energy efficiency and conservation is applied religiously to the home - but not to the woefully inefficient and wantonly over-used petrol or (bio-)diesel-powered cars parked in all those scrupulously but incongruously green, pleasant and organic gardens.

From The Green - Big Ideas overview:
"Each episode revolves around a different green theme as it spotlights a specific innovator or innovation that has the potential to transform our everyday lives. The series also features a cast of recurring expert commentators including activists, scientists, writers and environmental personalities who provide the big picture context for each week's stories."
All in all, The Green looks to be precisely the kind of show we had in mind when we wrote the following in our wildly popular sTop Gear" feature in 2004:

"When will our corporately embedded BBC finally relent and repent and provide viewers with a TV programme devoted to the environment - to all aspects of eco-innovation and green technology in the UK and around the world? EVUK has of course written to the BBC many times on this - we've even given them(with no consultation fee...) a programme title to run with : "Action Planet"...

(Spookily enough, "The Green Zone" had been another firm favourite of ours - until the US military found other more..er...creative uses for it circa 2003...)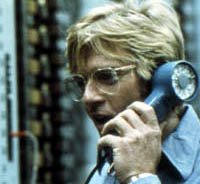 - Robert Redford in "Three Days of the Condor"
"Oil fields! This whole damn thing was about oil !" (See EVUK feature, March 2006)





Against that backdrop, there is every reason, surely, to expect that electric cars and - even greener - electric bikes and scooters will feature in at least one of The Green's 13-episode opening season.
That said, there will inevitably be concerns that the show's Lexus sponsorship and uncritical plugging of plug-less luxury hybrids could again stifle or kill electric car/electric vehicle content.
Email: thegreen@sundancechannel.com

See also:

Eco TV / Verdi TV channel (Italy). Watch live streaming now or view on Hotbird satellite at:
11013 MHZ, 27,500 Ksps, Horizontal or Sky(Italy) channel 906....and ask yourself why British TV is still barren brown Tumbleweed TV...

Note: for all their merits and despite the wishful-thinking ".tv" suffix, Urth.tv and Green.tv - unlike The Green and Eco TV - are not(yet!) genuine TV channels or broadcasters...)


(Would you like to comment on this article? Why not visit Britain's leading - EVUK-linked - EV Discussion, Campaign & Media Watch Groups: Electric Cars UK and Campaign for Battery Electric Vehicles?)

Click for more News >>>